Celebrating our affinity with nature, and a yearning for enveloping woodlands, leafy groves and deep water wonderlands, Madeaux's new 'Sylvan' collection offers an abundance of stylised leaf and vine prints, abstract wood grain patterns, coral motifs and naturalistic designs.
The Oasis collection of high-performance fabrics marks a fresh departure for Madeaux into this innovative category of design. Woven from recyclable polypropylene yarns that have excellent light fastness, resistance to stains and mould with an alluring and natural touch, they offer a high performing yet elegant addition to any space, inside or out.
Download the brochures here: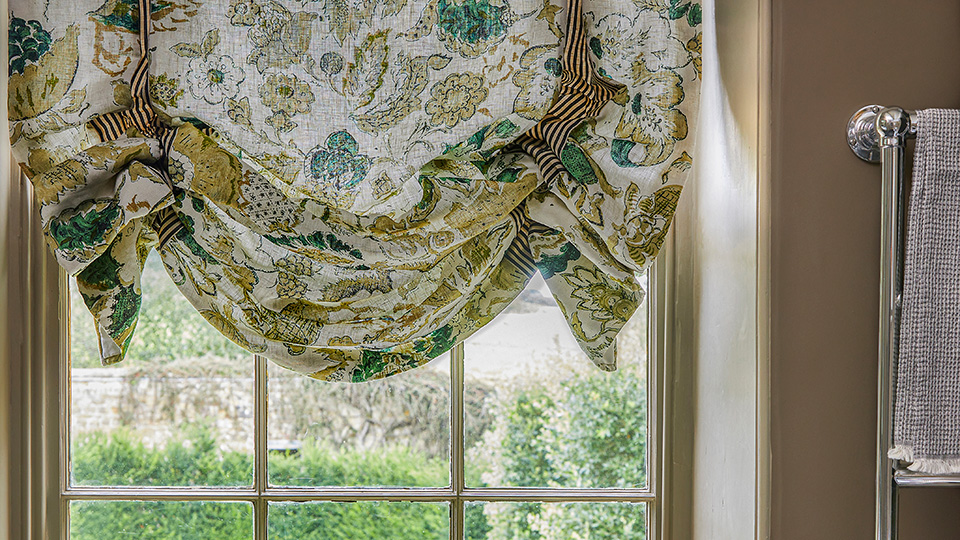 Inspired by an early eighteenth century wood block of stylised leaves and flowers, this new large-scale linen print is full of magical details. Scrolls, dashes, and zig zag elements work together to create something completely new.
Available in two stunning colours of soft aqua and dusky pink and a stunning mix of greens and neutrals, both printed on a pure linen ground, its slubs enhancing the textures within the design.
Available in 2 colourways, 01 Powder, 02 Forest
100% Linen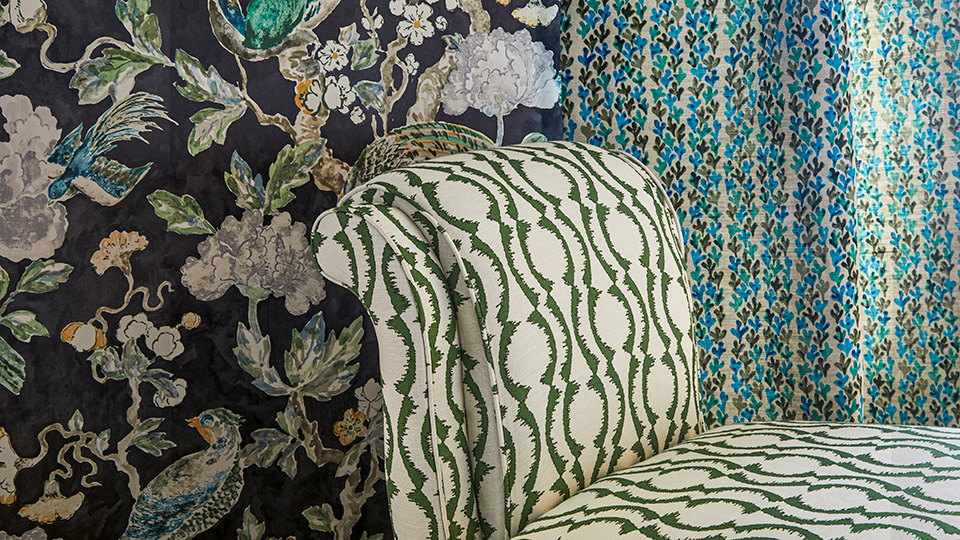 Originating as a water colour sketch of leaves, the delicate rendering and softness of the brushstrokes has been carefully replicated on cloth and printed on a sturdy, yet soft linen and cotton mix 'Phoebe' works perfectly on both upholstery and curtains.
Offered in two colourways of Rose and Teal, Phoebe works alongside some of Madeaux's most popular designs.
Available in 2 colourways, 01 Rose, 02 Teal
60% Linen / 40% Cotton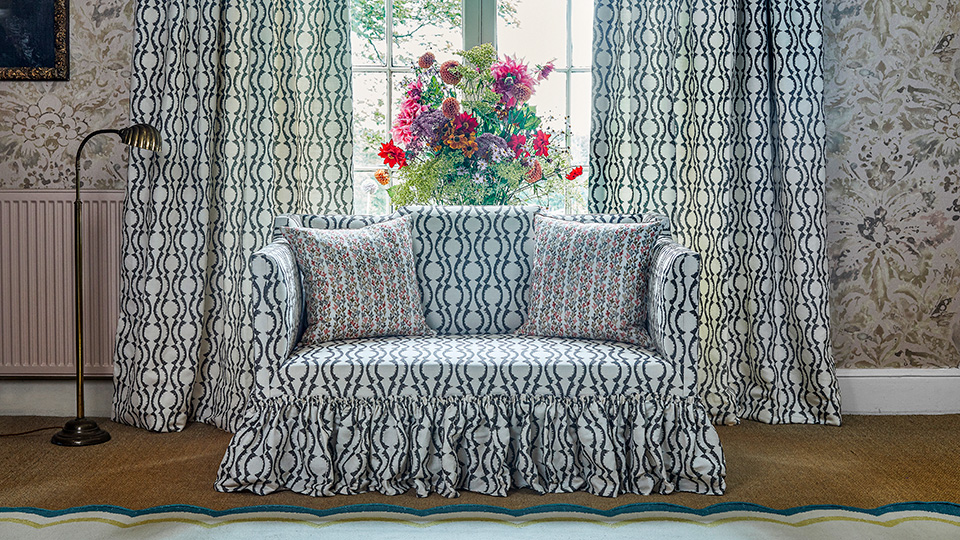 The working name for this simple design, stuck with it, reflecting its playful character. The familiar 'Ogee' layout is given a graphic edge with feathered motifs.
'Zogee' works beautifully as a coordinate to many of Madeaux's most iconic designs or as a stand alone fabric in a scheme, richly layered with woven textiles and textures.
Available in 5 colourways, 01 Sand, 02 Blue, 03 Green, 04 Red, 05 Charcoal
60% Linen / 40% Cotton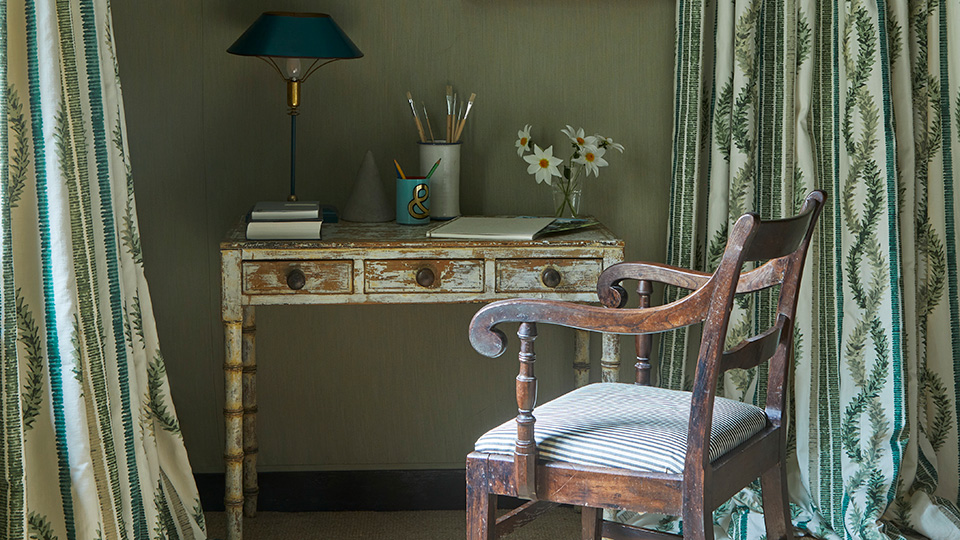 Depicting a stylised vine scrolling up the length of the fabric, 'La Vigne' features a soft stripe between the vines made using a traditional wood block, this simple authentic print mark has been carefully replicated on the cloth.
Essentially a classic motif, the colouration and mark making of 'La Vigne' combine to create a current design that sits equally well in both contemporary and classic interiors.
Available in 2 colourways, 01 Sepia, 02 Green
90% Cotton / 10% Linen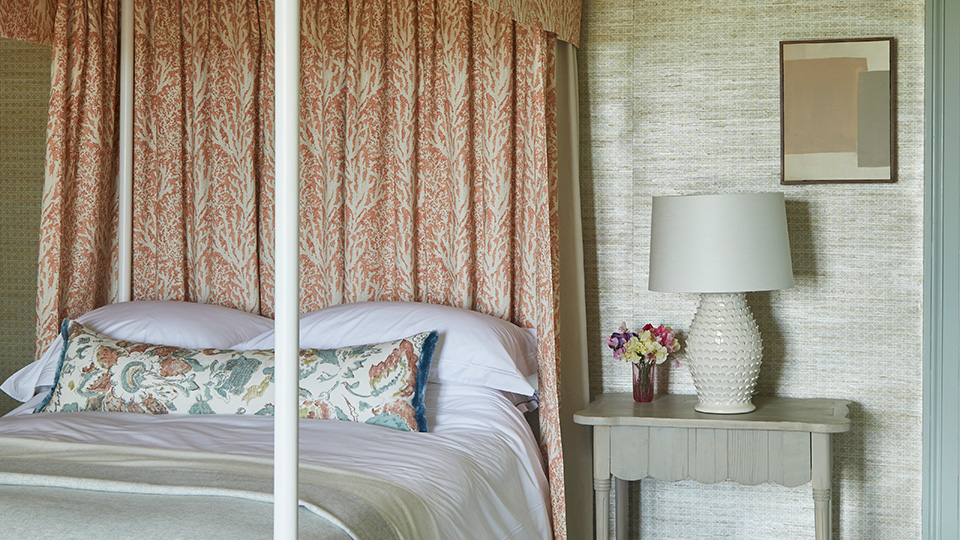 Capturing the delicate movement of sea fans under water, the 'Coral Stripe' is a soft, ethereal painterly design. The small scale coral winding its way up the fabric between larger motifs adds to the gentle rhythm in the design.
Printed as a negative with the sea foliage in relief against the coloured ground on a crisp cotton and linen cloth.
Available in 3 colourways, 01 Pale Ocean, 02 Indigo, 03 Faded Rose
90% Cotton / 10% Linen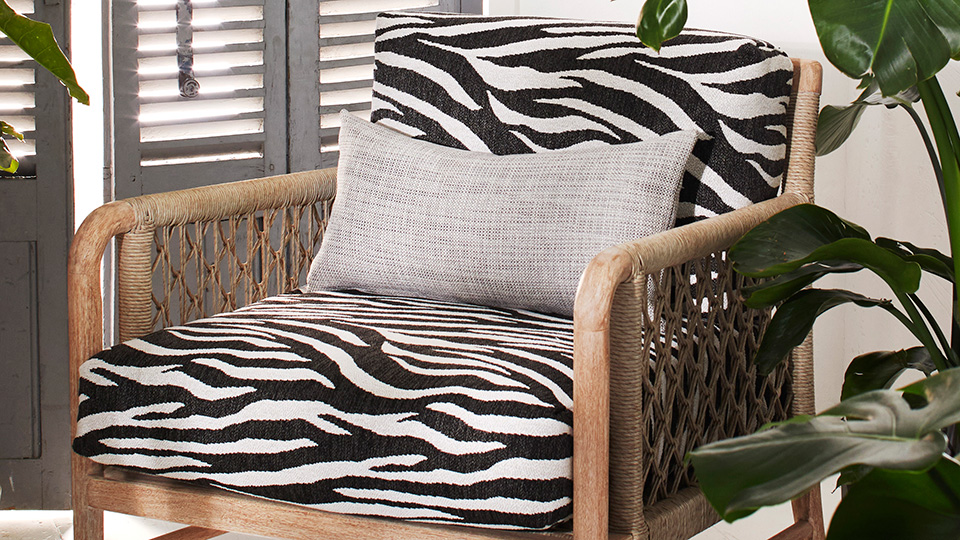 This gorgeous, stylised animal print is woven from chunky twisted yarns that give body and texture to the fabric.
Supremely durable with an impressive Martindale result, it works as well railroaded as it does conventionally, and adds a graphic note to the collection.
Available in 4 colourways, 01 Dune, 02 Seacloud, 03 Marine, 04 Ebony
100% Polypropylene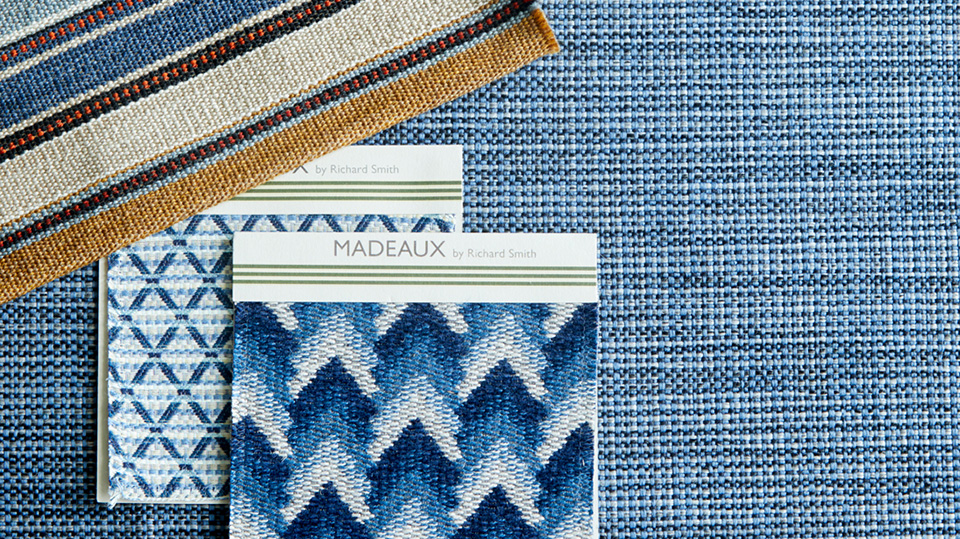 A complex combination of twisted yarns work together to make this toothsome and luxurious semi plain.
Ideally suited to both indoor and outdoor use, it brings a mix of refined elegance with outstanding durability.
Available in 5 colourways, 01 White Sand, 02 Mineral, 03 Onyx, 04 Malachite, 05 Indigo
100% Polypropylene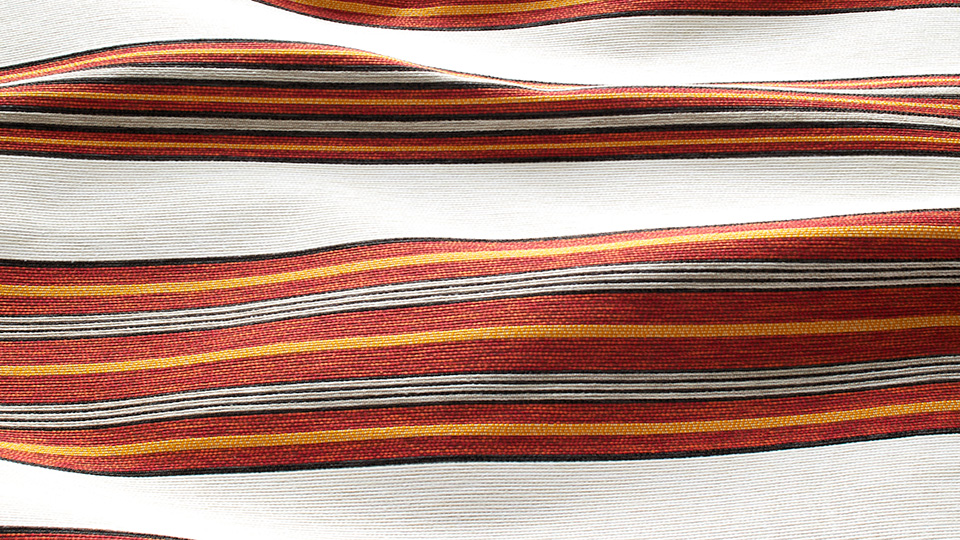 A lighter weight of weave unites the two stripe designs in the collection – based on Central Asian rugs they make a classic yet light-hearted decorative statement.
Particularly chic when mixed in a jumble of colours, Wide Kelim Stripe has large expanses of cream between the colourful stripes.
Available in 3 colourways, 01 Indigo, 02 Spice, 03 Sand
66% Polypropylene / 34% Polyester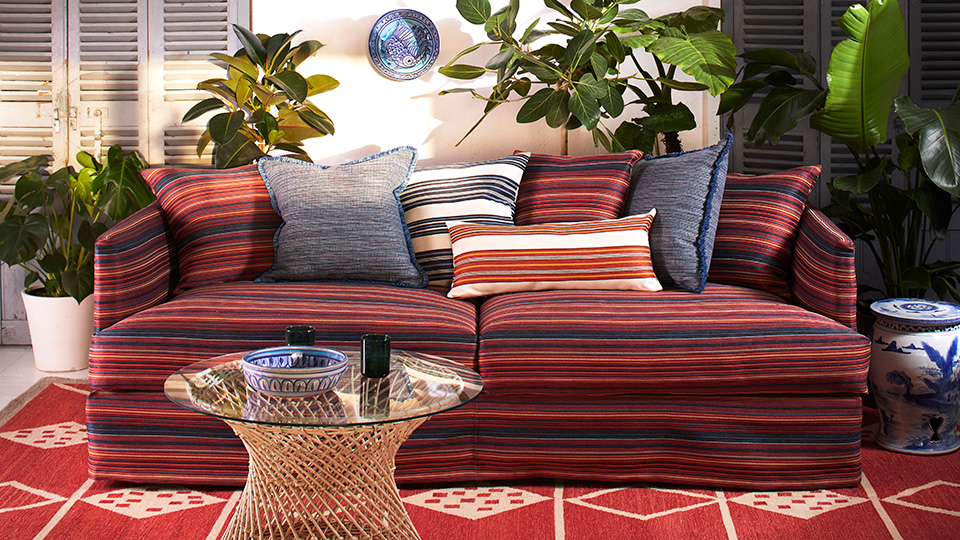 More intense in pattern than its sister fabric, Narrow Anatolia brings an intense flash of colour to the collection – it works brilliantly combined with the wide stripe to evoke the chic feeling of a bohemian veranda in southern Spain.
Available in 3 colourways, 01 Navy, 02 Red & Blue, 03 Teal
66% Polypropylene / 34% Polyester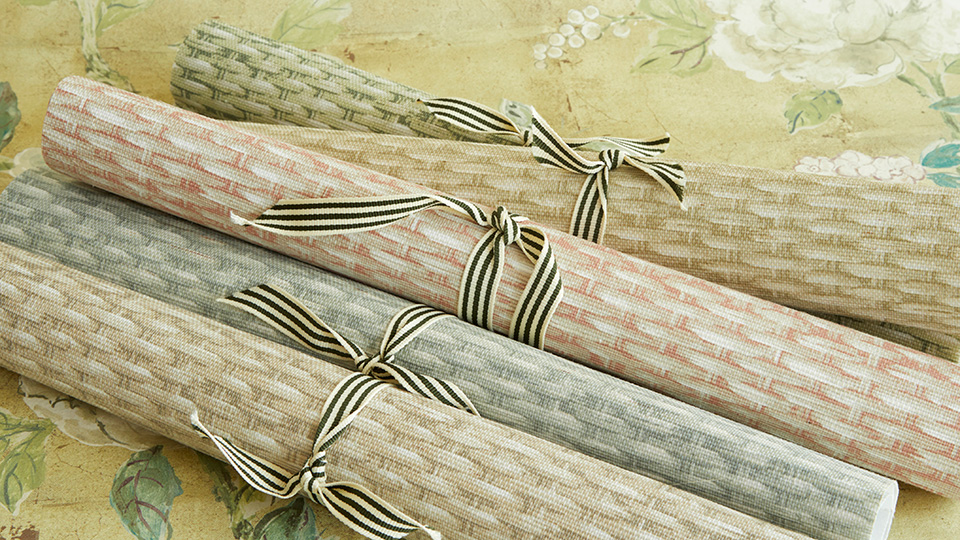 Basketweave is a hand painted trompe l'oeil motif, printed on a richly textured natural grasscloth wallcovering.
A brilliant natural fibre paper that create a beautiful subtle pattern, easy to incorporate into any design scheme.
Available in 5 colourways, 01 Straw, 02 Putty, 03 Duck Egg, 04 Green, 05 Rose
Grasscloth Wall Covering