Bamboo Grove seems such a natural fit to describe this exciting collection of new prints and wovens plus wallpapers developed from existing designs. The name is shared with the lead design, makes a nod to oriental influences and the varying, natural textures that run throughout.
Download the brochure here:
Fabrics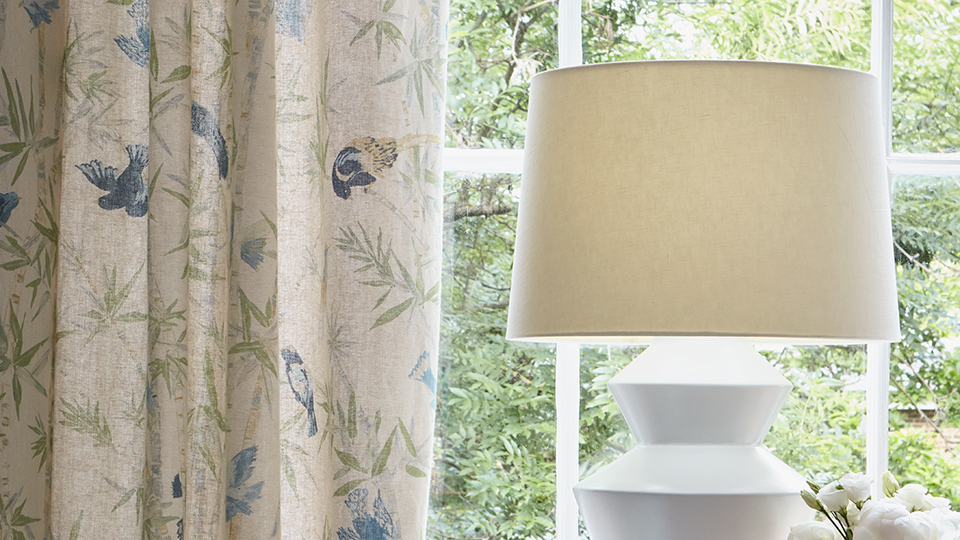 Delicate song birds fly through and amongst a forest of painterly bamboo –  the design has a lot of "air" between the motifs and a delightful sense of movement. Printed on our linen herringbone that gives an added depth to the thoughtfully painted motifs.
Available in 3 colourways, 01 Old Gold, 02 Tobacco Leaf, 03 Blue Finch.
55% Linen / 45% Cotton.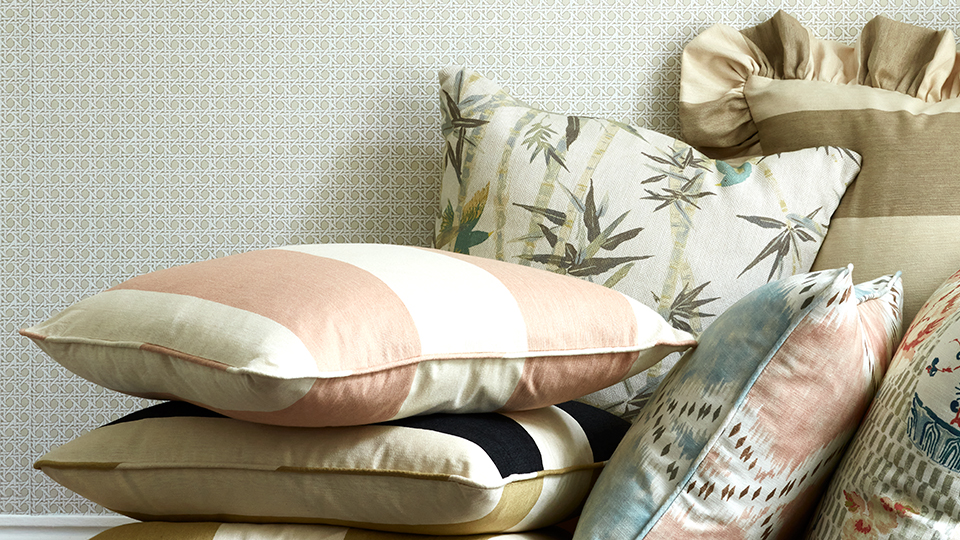 Hand woven from 100% silk, this bold horizontal stripe is available in 5 colourways. The fabric has a sensational drape and looks equally at home in a classic decorative scheme as it would in a more contemporary setting.
Available in 5 colourways, 01 Naturel, 02 Gold, 03 Sea Glass, 04 Rose, 05 Graphite.
100% Silk.
Glorious, large roses in painterly ceramic pots cover the surface of this printed fabric, the main motifs grounded by an artisanal vertical brick pattern throughout which gives a fresh and graphic edge to a classical idea. The name refers to the Nanking cargo of ceramics lost in 1752 and rescued from the South China Sea in 1986.
Available in 2 colourways, 01 China Blue, 02 Rose.
90% Cotton / 10% Linen.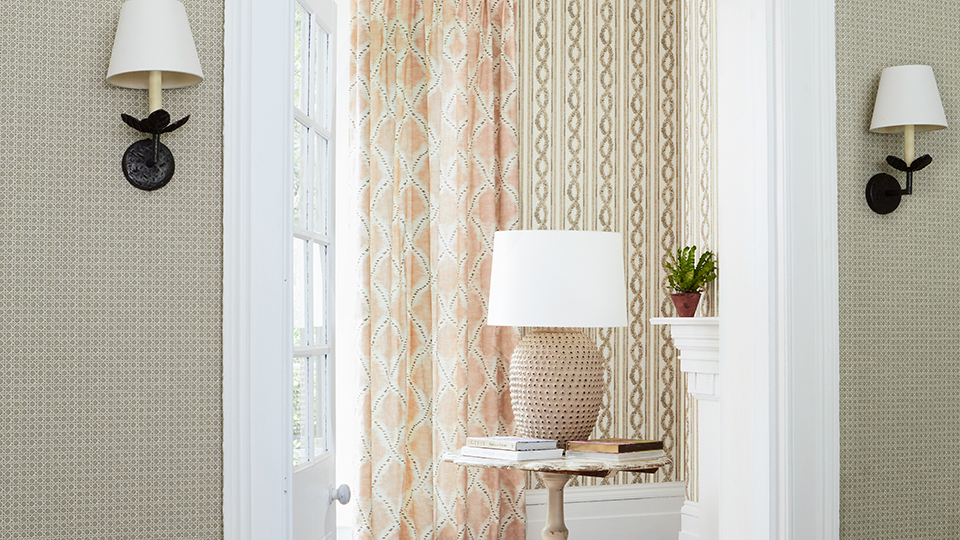 Painted in free flowing watercolour, the soft teardrop shapes are evocative of Chinese arched bridges and retain the softness of the original artwork. An accent colour occurs irregularly as a small diamond motif, following the rhythm of the design.
Available in 2 colourways, 01 Blue Sky, 02 Petal.
90% Cotton / 10% Linen.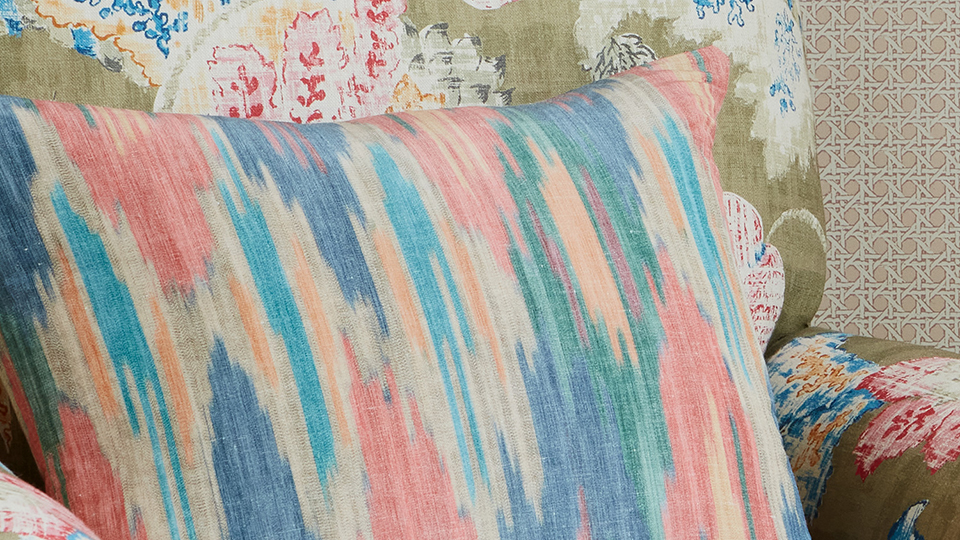 We launched Samarkand wallpaper 18 months ago, based on an original ikat fabric document… And we are now revisiting the idea as a proper linen ikat. The design is printed on to the warp yarns before weaving with the slubby linen yarn of the weft – an extraordinary, ancient technique that gives a softness to the dynamic motifs. Woven in Italy by a specialist mill that works mostly with European couture houses.
Available in 3 colourways, 01 Mole, 02 Harvest, 03 Jewel Tones.
64% Linen / 36% Polyester.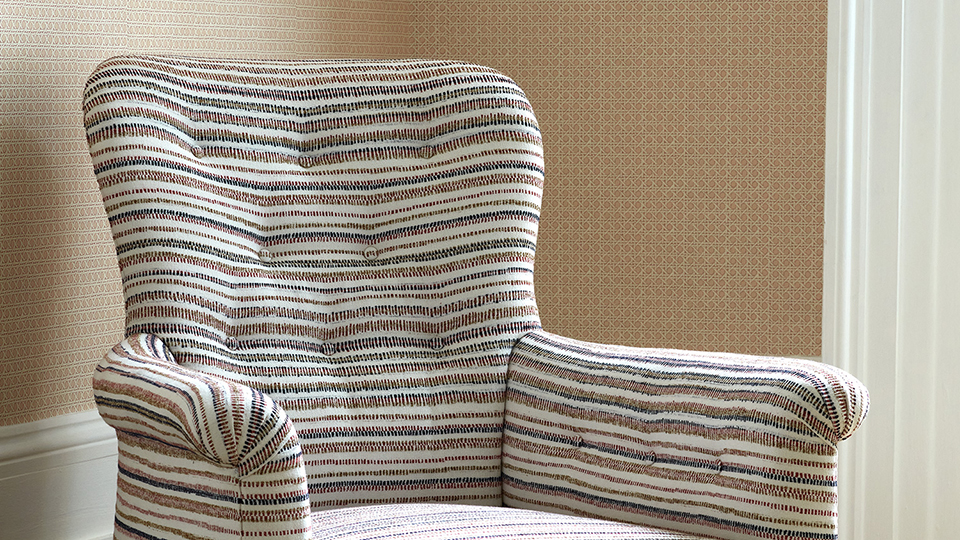 A fabulous and versatile woven fabric that combines three different colours in soft, horizontal stripes. The motifs are reminiscent of the ground from the print design Famille Rose, but also of tribal rugs. It can be used in a contemporary, textural way or layered with other patterns for a more boho look.
Available in 3 colourways, 01 Pale Ocean, 02 Indigo, 03 Faded Rose.
38% Cotton / 38% Viscose / 20% Linen / 4% Polyester.
Wall Coverings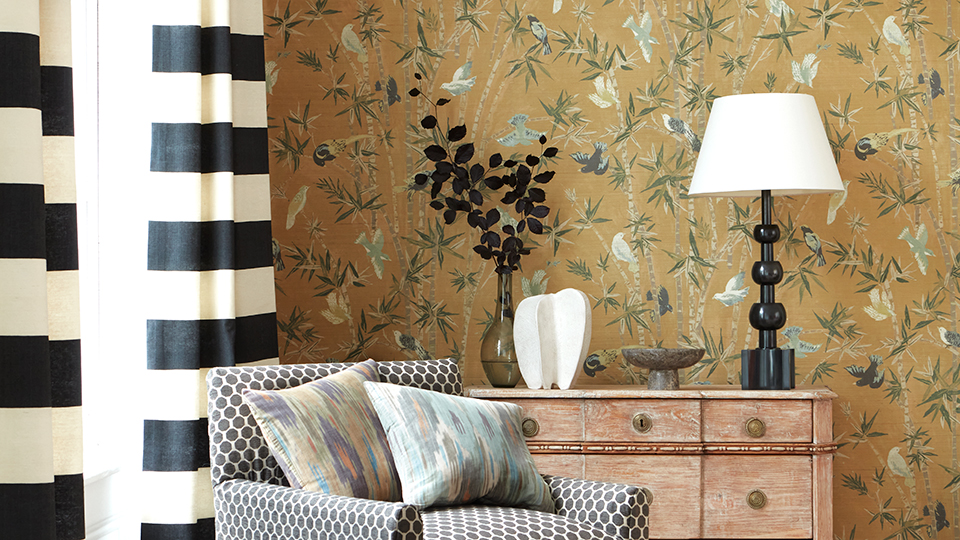 A little larger in scale than the fabric version of the same design, we decided to print these delicate birds amongst bamboo on a textured grasscloth. The irregularities within the substrate add depth and further character.
Available in 3 colourways, 01 Old Gold, 02 Tobacco Leaf, 03 Blue Finch.
Grasscloth Wall Covering.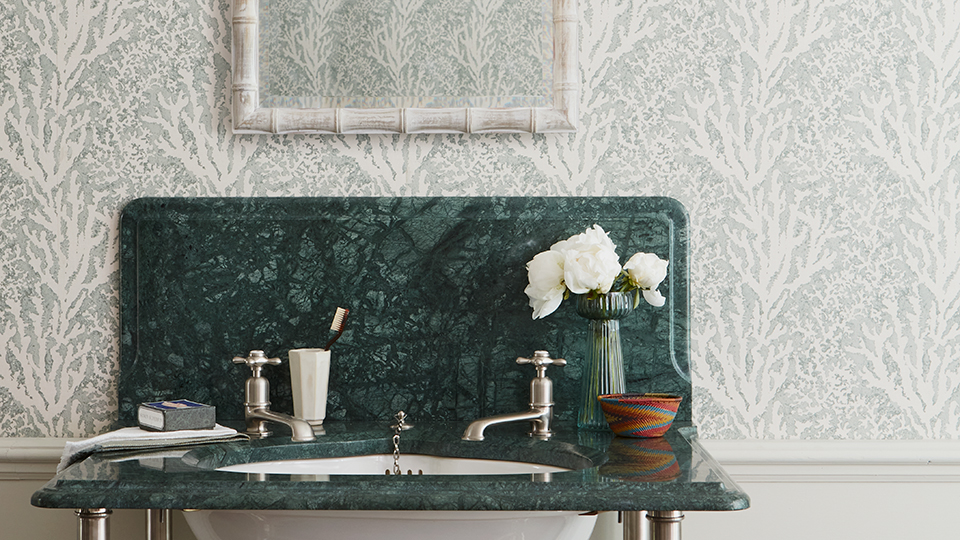 Capturing the delicate movement of sea fans under water, 'Coral Stripe' is a soft, ethereal painterly design. The small scale coral winding its way up the wallpaper between larger motifs adds to the gentle rhythm in the design. Printed as a negative with the sea foliage in relief against a coloured ground.
Available in 3 colourways, 01 Pale Ocean, 02 Indigo, 03 Faded Rose.
Non-Woven Paper.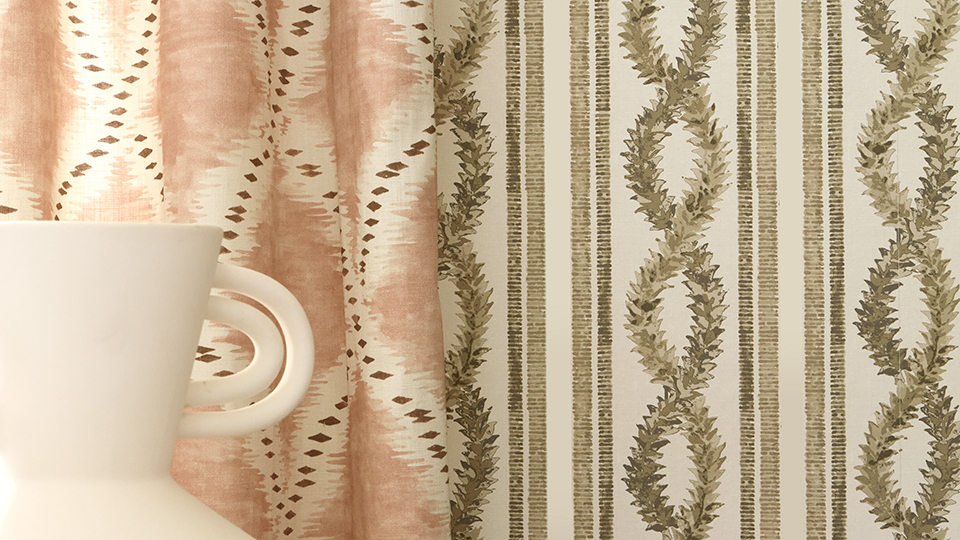 Depicting a stylised vine scrolling up the length of the wallpaper, 'La Vigne' features a soft stripe between the vines made using a traditional wood block: this simple authentic print mark has been carefully replicated on the paper. Essentially a classic motif, the colouration and mark making of 'La Vigne' combine to create a current design that sits equally well in both contemporary and classic interiors.
Available in 2 colourways, 01 Sepia, 02 Green.
Non-Woven Paper.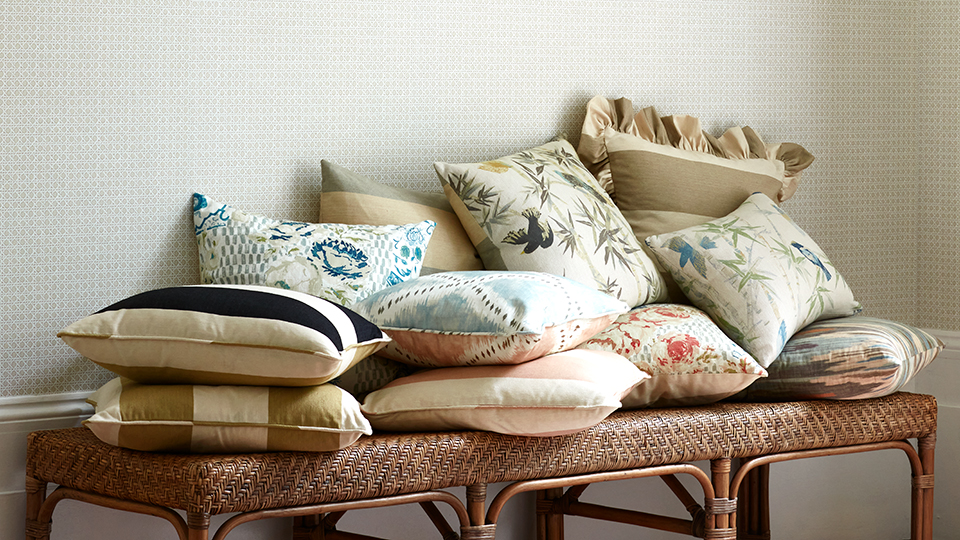 I can't imagine a space that wouldn't be improved with this wallpaper! A hand painted rattan motif is printed on a non-woven paper ground to give a fresh and crisper alternative to our best selling Rattan grasscloth. Ten mouth-watering colourways on ivory give infinite decorating possibilities – This new version is a slightly smaller in scale to the original making it the perfect "background".
Available in 10 colourways, 01 Stone, 02 Sand, 03 Glacial, 04 Marine, 05 Jade, 06 Fennel, 07 Mustard, 08 Butternut, 09 Blush, 10 Café.
Non-Woven Paper.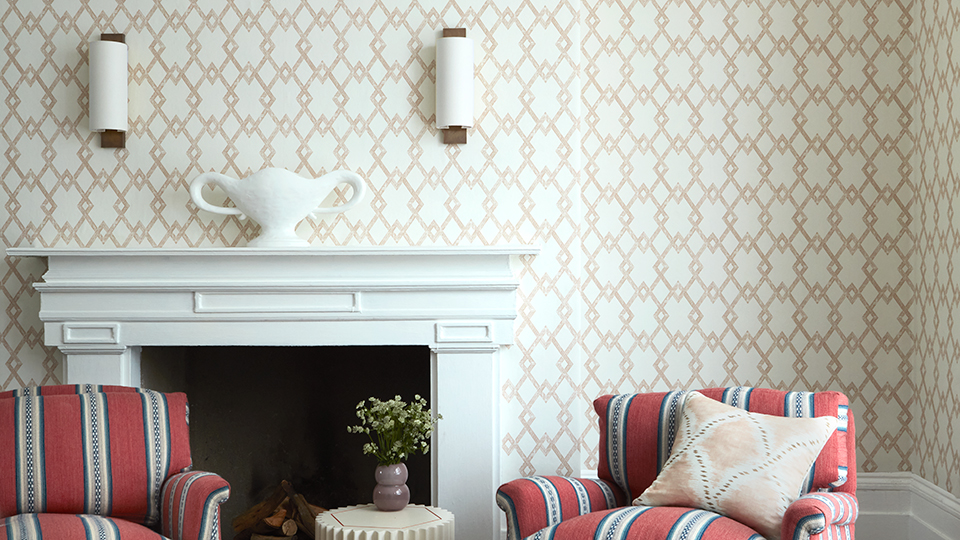 A two colour trellis design, inspired by ornamental Victorian aviaries and printed on a freach ground. At a smaler scale that the original fabric of the same name, the patterns within the shapes have an antiqued effect to soften the overall look.
Available in 3 colourways, 01 Silver Cloud, 02 Sage, 03 Clay.
Non-Woven Paper.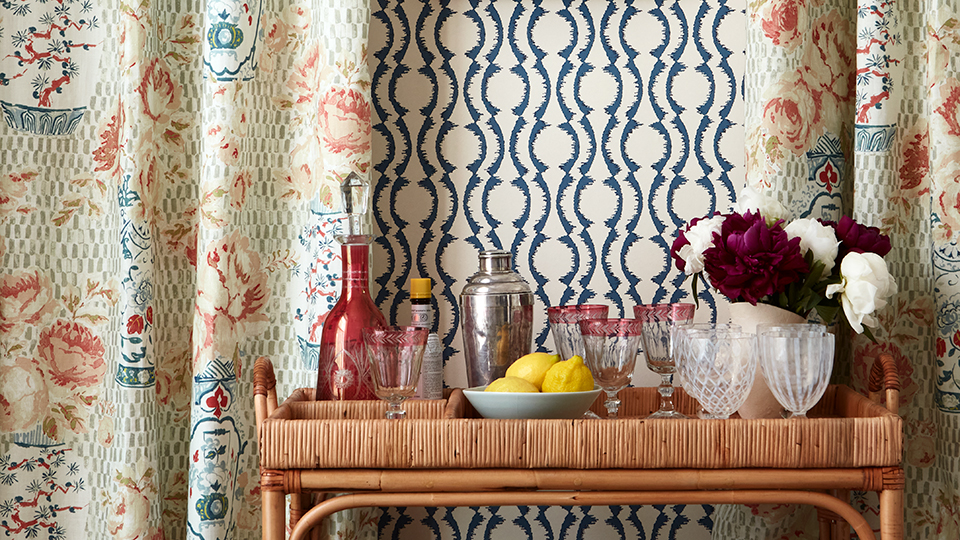 Zogee was the working name for this simple design and we stuck with it,as it seems to reflect the design's playful character. The familiar 'Ogee' layout is given a graphic edge with feathered motifs. 'Zogee' works beautifully as a coordinate to many of Madeaux's most iconic designs or as a stand alone wallpaper in a scheme, richly layered with woven textiles and textures.
Available in 8 colourways, 01 Sand, 02 Blue, 03 Green, 04 Red, 05 Charcoal, 06 Stone, 07 Seacloud, 08 Blush.
Non-Woven Paper.